Do you meet one or more of the following points?
Are you a busy woman or man who want to belong to a branch, but has limited time to attend meetings in person?
Do you want to support AAUW's local efforts in Maryland?
Do you want to connect with interesting AAUW members across Maryland?
Then the AAUW Maryland On-Line Community is for you.
The AAUW Maryland On-Line Community is one of the newest branches (established in 2016) of the American Association of University Women (AAUW).  We advance equity for women and girls through advocacy, education, philanthropy, and research.  AAUW is the nation's leading voice promoting equity and education for women and girls. Since our founding in 1881, AAUW members have examined and taken positions on the fundamental issues of the day — educational, social, economic, and political.
This new branch provides a different kind of community for those National Members. Those in areas of the state where there is no location-based branch and those for whom location-based branches are not a good "fit" are invited to join the AAUW Maryland On-Line Community which serves the entire state of Maryland.
As a member, you will get copies of the AAUW Maryland newsletters – the Marylander – and be "in the loop" on AAUW issues affecting the state. You'll also be connected to the national AAUW community and receive all the benefits of belonging to that powerful network.
---
Help Close the Wage Gap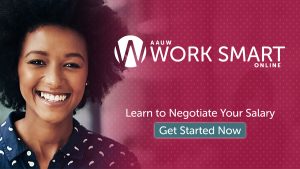 Work Smart Online, a free salary negotiation course to help women better their financial future!.
This easy, engaging e-tool will teach you to:
• Learn the market value of your skills and experience
• Determine an equitable "target salary"
• Ask for—and get—the pay you deserve
Here's the best part: The program works! In surveys with our participants, nearly all reported having more confidence and better negotiating skills after taking the class. After attending a Work Smart program, nearly half of participants were able to negotiate for a raise, promotion, or higher-paying job.
Take Work Smart Online today and improve your financial future